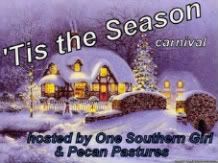 Tomorrow, McKenzie and I will be hosting the first day of 'Tis the Season - keeping Christ in Christmas carnival... As the Christmas day comes closer, it is easy for us to become distracted with last-minute shopping or parties and forget what Christmas is all about. This carnival is meant to help keep Christ in the forefront for our families and to help encourage others to do the same. We will be posting every Monday, starting tomorrow and will end on Christmas Eve. That's the 7th, 14th, 21st and the 24th for those who want the dates. McKenzie and I will be taking turns hosting every other week.
Anyone can participate, as long as their posts are God-honoring. Your post can be scripture (prophecy or the Christmas story), a Christmas story (as long as it makes the true meaning of Christmas clear), Christmas Carols, etc... It can be serious or fun, but please do not post about Santa Claus or songs like Jingle Bells and We wish you a Merry Christmas. They don't fit in the qualifications of keeping Christ in Christmas.

There are some guidelines to follow and if you click on the picture above, that will take you directly to the guidelines and the hows of this carnival.

If you don't have a blog, you can leave a comment with what you would post if you had a blog.

We hope you will join us... Consider yourself invited!