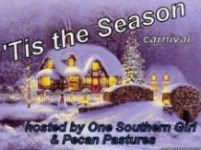 It's the second week of
'Tis the Season
.
McKenzie
is hosting this week, so please add your posts in the mcklinky and read the other entries. I'll be in Atlanta all day ('J' has a doctor's appointment) and I won't be able to add your entries in, if you need help with that. I'm looking forward to reading everyone's posts when I get home though.
Christmas Day is rapidly approaching... My little sisters are counting down the days, only 11 days to go.
We have Christmas songs playing and the hymnals are opening to the Christmas songs section now. One of my favorite things to do each Christmas is listen to the Vienna Boys Choir sing 'Silent Night'! I find the stories behind the carols and songs very interesting. Especially the story behind Silent Night...
How the world's most famous Christmas carol came to be written and set to music
In 1818, a roving band of actors was performing in towns throughout the Austrian Alps. On December 23 they arrived at Oberndorf, a village near Salzburg where they were to perform the story of Christ's birth in the small Church of St. Nicholas.
Unfortunately, the St. Nicholas' church organ wasn't working and would not be repaired before Christmas. (
Note: some versions of the story point to mice as the problem; others say rust was the culprit
) Because the church organ was out of commission, the actors presented their Christmas drama in a private home. Even so, that Christmas presentation put assistant pastor Josef Mohr in a meditative mood. Instead of walking straight to his house that night, Mohr took a longer way home. The longer path took him up over a hill overlooking the village.
From that hilltop, Mohr looked down on the peaceful snow-covered village. Reveling in majestic silence of the wintry night, Mohr gazed down at the glowing scene. His thoughts about the Christmas play suddenly made him to remember a poem he had written a couple of years before. It was a poem about the night when angels announced the birth of the long-awaited Messiah to shepherds on a hillside.
Mohr decided those words would make a good carol for his congregation the following evening at their Christmas eve service. However, he didn't have any music to which that poem could be sung. So, the next day Mohr went to see the church organist, Franz Xaver Gruber. Gruber only had a few hours to come up with a melody which could be sung with a guitar. However, by that evening, Gruber had managed to compose a musical setting for the poem. It no longer mattered that their church organ was broken. They now had a Christmas carol they could sing without it.
On Christmas Eve, the little Oberndorf congregation heard Gruber and Mohr sing their new composition to the accompaniment of Gruber's guitar.
Weeks later, well-known organ builder Karl Mauracher arrived to fix the St. Nicholas church organ. When he finished, Mauracher stepped back to let Gruber test the instrument. When Gruber sat down, his fingers began playing the simple melody he had written for Mohr's Christmas poem. Deeply impressed, Mauracher took the music and words of "Silent Night" back to his own Alpine village, Kapfing. There, two well-known families of singers -- the Rainers and the Strassers -- heard it. Captivated by "Silent Night," both groups put the new song into their Christmas season repertoire.
The Strasser sisters spread the carol throughout northern Europe. In 1834, after they had performed "Silent Night" for King Frederick William IV of Prussia, that king ordered his cathedral choir to sing it every Christmas eve.
The Rainers brought the song to the United States in 1839, singing it (in German) at the Alexander Hamilton Monument located outside New York City's Trinity Church.
In 1863, nearly fifty years after being first sung in German, "Silent Night" was translated into English (by either Jane Campbell or John Young). In 1871 the English version was published in an American hymnal: Charles Hutchins'
Sunday School Hymnal.
Today, only the 1st, 2nd and 6th verses are sung. I found the exact translation and I also found the 'common' verses we sing today. Did you know that we don't sing the original music to Silent Night or the original words? When the repairman came to fix the organ, he took a copy of the music and lyrics with him. Somewhere, he lost some notes in the music and when the song was translated, the words changed, too. If you try to sing the english translation below, you are going to need the original music score.
1. Stille Nacht! Heilige Nacht!
Alles schläft; einsam wacht
Nur das traute heilige Paar.
Holder Knab im lockigten Haar,
Schlafe in himmlischer Ruh!
Schlafe in himmlischer Ruh!



1. Silent night! Holy night!
All are sleeping, alone and awake
Only the intimate holy pair,
Lovely boy with curly hair,
Sleep in heavenly peace!
Sleep in heavenly peace!



2. Stille Nacht! Heilige Nacht!
Gottes Sohn! O wie lacht
Lieb´ aus deinem göttlichen Mund,
Da schlägt uns die rettende Stund´.
Jesus in deiner Geburt!
Jesus in deiner Geburt!



2. Silent night! Holy night!
Son of God, O how he laughs
Love from your divine mouth,
Then it hits us - the hour of salvation.
Jesus at your birth!
Jesus at your birth!



3. Stille Nacht! Heilige Nacht!
Die der Welt Heil gebracht,
Aus des Himmels goldenen Höhn
Uns der Gnaden Fülle läßt seh´n
Jesum in Menschengestalt,
Jesum in Menschengestalt



3. Silent night! Holy night!
Which brought salvation to the world,
From Heaven's golden heights,
Mercy's abundance was made visible to us:
Jesus in human form,
Jesus in human form.



4. Stille Nacht! Heilige Nacht!
Wo sich heut alle Macht
Väterlicher Liebe ergoß
Und als Bruder huldvoll umschloß
Jesus die Völker der Welt,
Jesus die Völker der Welt.



4. Silent night! Holy night!
Where on this day all power
of fatherly love poured forth
And like a brother lovingly embraced
Jesus the peoples of the world,
Jesus the peoples of the world.



5. Stille Nacht! Heilige Nacht!
Lange schon uns bedacht,
Als der Herr vom Grimme befreit,
In der Väter urgrauer Zeit
Aller Welt Schonung verhieß,
Aller Welt Schonung verhieß.



5. Silent night! Holy night!
Already long ago planned for us,
When the Lord frees from wrath
Since the beginning of ancient times
A salvation promised for the whole world.
A salvation promised for the whole world.



6. Stille Nacht! Heilige Nacht!
Hirten erst kundgemacht
Durch der Engel Alleluja,
Tönt es laut bei Ferne und Nah:
Jesus der Retter ist da!
Jesus der Retter ist da!



6. Silent night! Holy night!
To shepherds it was first made known
By the angel, Alleluia;
Sounding forth loudly far and near:
Jesus the Savior is here!
Jesus the Savior is here!

Wikipedia has three audio clips of Silent Night being played on a piano, guitar and flute. Which I am currently listening too. Check them out here.
The story and lyrics are from
Stille Nacht Gesellschaft
and Southern Nazarene University.